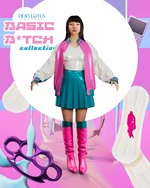 BASIC B*TCH COLLECTION
As basic bitches, we don't like to complicate things. The Basic B*tch Collection is all about classic, wearable items given a signature Dead Lotus Couture twist. We wanted to create a bold, fun collection of simple pieces to mix and match, or to add to your everyday wardrobe. We also mixed in a few favourite classic Dead Lotus Couture designs, that we thought worked perfectly with the collection. Inspired by fun, nostalgia and the fluidity of gender and expression, the Basic B*tch Collection (just like every Dead Lotus Couture design) is for everyone.
Handmade in London, the Basic B*tch Collection is crafted from the highest quality natural latex.